Vision
Making Mental Health A Global Priority
Background
The Global Alliance for Mental Health Advocates is a special global mental health project initiated by Silver Ribbon (Singapore) and Lundbeck.
It serves as a platform to connect all stakeholders - organisations and individuals such as policymakers, grassroots leaders, representatives of government agencies, mental health professionals, mental health practitioners, treatment providers, teachers, students, journalists, consumers, caregivers, etc, across the world to discuss, learn, network, share best practices, ideas, knowledge & resources on mental health promotion and advocacy, and stay connected in improving the quality of life of people living with mental health issues & their caregivers and promoting an inclusive and gracious society.
Advisory Panel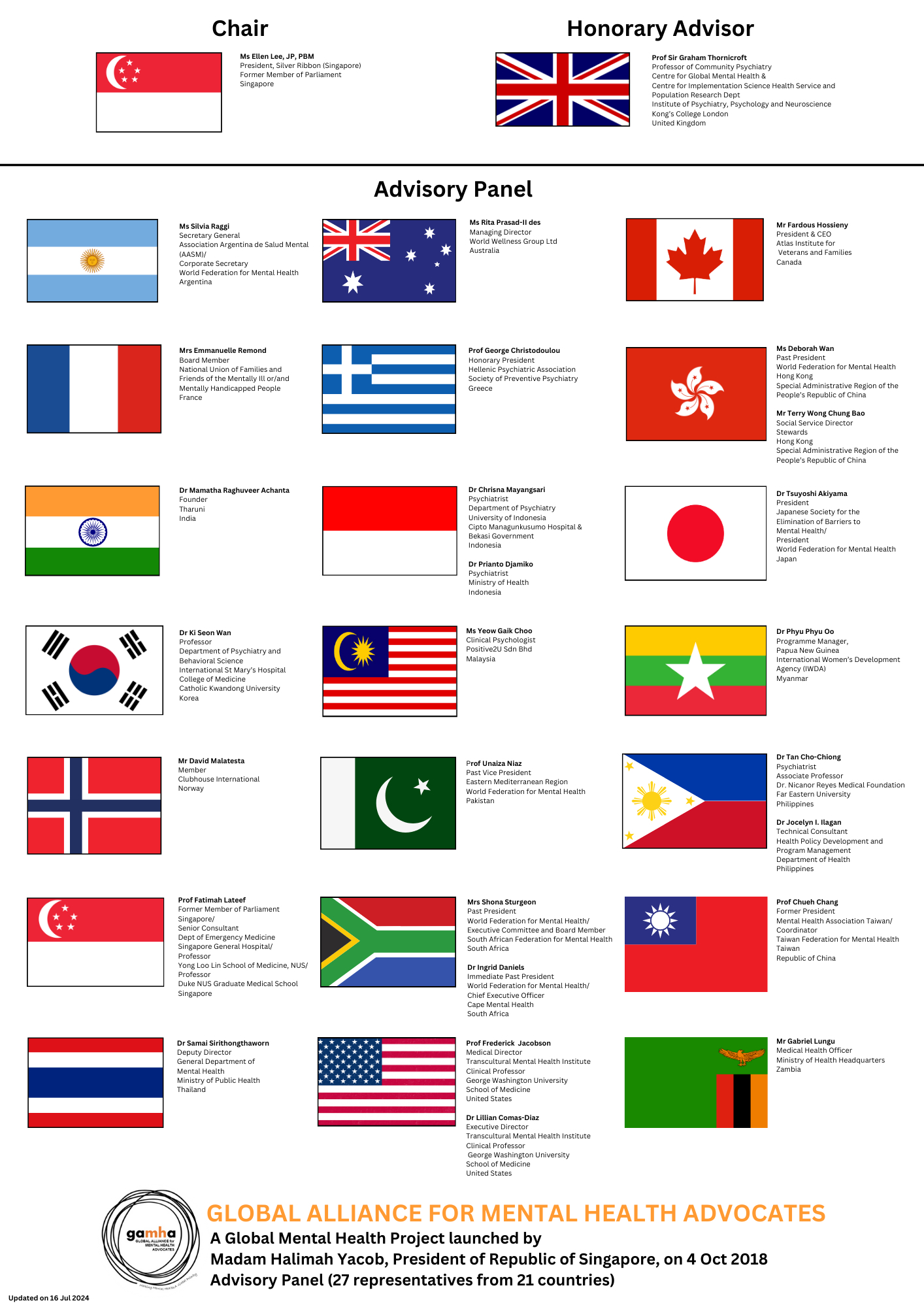 Click image to enlarge
Membership
Complimentary but registration is compulsory and subjected to approval of the Secretariat.
To sign up, please email info@silverribbonsingapore.com.
Benefits
Purpose

Categories

Individual

Organisation

Newsletters
To discuss, learn, network, share best practices, ideas, knowledge & resources on mental health promotion and advocacy, and stay connected in improving the quality of life of people living with mental health issues & their caregivers and promoting an inclusive and gracious society.
✔
✔
+ publicity of my organisation's upcoming events
Summits
✔
+ discounted rates of registration fee for self
✔
+ discounted rates of registration fee for staff & volunteers at summits organised by GAMHA and its members
+ free advice and support to host & publicise organisation's summits
Exchange Programmes
✔
✔
Mental Health Programmes
✔
✔