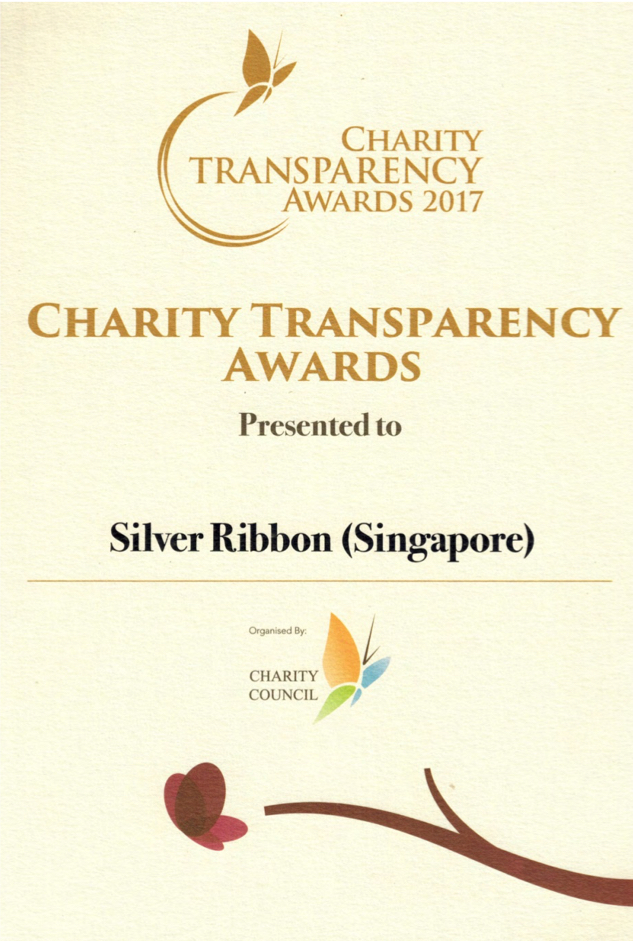 Why should I consider making my contribution to Silver Ribbon (Singapore)?
According to a local study on adult population, 1 in 6 Singaporeans is suffering from a form of mental disorder. However, stigma that surrounds mental illness often prevents people from seeking treatment and the consequences of untreated mental illness can be shattering, leading to unnecessary disability, homelessness, unemployment, incarceration and even suicide. 
Silver Ribbon (Singapore) believes that the earlier an illness is detected and treated, the better the treatment outcome. Therefore, since its inception in 2006, we have been working closely with policymakers, government agencies, grassroots leaders, religious leaders, journalists, local and overseas mental health organisations, school institutions, psychiatric patients and their caregivers by
organising at least 2 complimentary mental health events for the community monthly,
commemorating World Mental Health Day annually,
offering assistance to school institutions and organisations on mental health programme or project,
offering complimentary counselling service to the community,
providing advice on mental health issues,
linking individuals/caregivers/organisations up with relevant mental health organisations, and
introducing effective mental health programmes to the local community.
Your contribution will help us in combating health stigma and encouraging early treatment.
Why should I feel secured in making donation to your organisation?
Our organisation adheres strictly to the guidelines of National Council of Social Services.
Our elected Honorary Treasurer will oversee all expenditures to ensure accountability and transparency.
An external audit would be conducted at the end of each financial year.
The audited financial report would be tabled during the Annual general Meeting and then copied to Ministry of Health, Commissioner of Charities, Registry of Societies, and National Council of Social Services for filing.
Would I be entitled to tax deduction for my contribution? 
Silver Ribbon (Singapore) is an approved Institution of a Public Character (IPC). An approved IPC is an organisation authorised by the Commissioner of Charities to receive tax-deductible donations (i.e. donors are given tax deduction for donations made to these organisations).
What are the details required to be submitted for the tax deduction? 
We require the following details to be submitted for tax deduction:
NRIC
Name
Address
Postal Code
Email Address
Telephone Number
How do I make my contribution? 
To make your contribution to Silver Ribbon (Singapore), here are the following methods:
To make a cash donation, you may wish to visit our office at Silver Ribbon (Singapore), C/O Tze Hng Wellness Studio, Blk 616 Hougang Ave 8 #01-386 Singapore 530616 during office hours (9am to 5pm) on weekdays. Do ensure that you receive an acknowledgement form after making the donation.
To make a cheque donation, please cross your cheque to Silver Ribbon (Singapore) and mail it to: 
Silver Ribbon (Singapore) 
C/O Tze Hng Wellness Studio 
Blk 616 Hougang Ave 8 
#01-386 
Singapore 530616
To make a bank transfer, you may do so through internet banking or at any ATMs. Here are the details:
| | | |
| --- | --- | --- |
| Account Name |       | Silver Ribbon (Singapore) |
| Bank | | DBS Bank Ltd |
| Account Number | | 047-900858-6 |
Please note that your tax exemption receipt will be issued and mailed to the given address upon receipt of the bank statement.