Why your donation matters to us?
Your kind donation will help us to settle our expenses incurred while serving the needy & community including
Our bills for utilities, telco, etc
Our rental fee
Our manpower cost, equipping with trained & qualified staff to

Provide complimentary counselling service (Mode - Phone, WhatsApp, & Zoom)
Conduct free home visits for those who are challenging issues, not IT savvy or wheelchair bound
Organise free community events
Offer mental wellness workshops and talks for the community
Who are the beneficiaries of Silver Ribbon (Singapore) serving?
We serve everyone and anyone who come to us on mental health related issues regardless of their age, nationalities, race, sexual orientation, etc, and will do our best to assist at our capacity. And, our beneficiaries include:-
Mentally Well – To educate them on the importance of mental health so that they could recognise warning signs, know where to seek help, support their loved ones and take care of their own mental wellbeing.
Mentally At-Risk – To educate them on where to seek help and consequences of delayed treatment.
Mentally Unwell – To educate them on management of their condition and consequences of defaulted treatment.
How do we introduce our mental health programmes & services?
We work closely with government agencies, local & overseas mental health organisations, persons with mental health issues and caregivers.
We evaluate the effectiveness of our existing programmes & services.
We monitor the situation and develop & implement new ones according to the community needs when necessary.
Why should I feel secured in making donation to your organisation?
We adhere strictly to Code of Governance for Charities and IPCs set by Charity Council.
Only President and Honorary Treasurer are authorised to approve monthly payments and staff payroll.
We hold Board Meetings quarterly and update the Board on all issues and challenges including financial status.
We review our operational process, policies & procedures regularly and explore collaboration with our partnering organisations to

keep our expenses low,
and sustain our organisation.

We engage a trained bookkeeper to maintain the expenses record which will be audited at the end of each financial year.
We present the audited financial report at the Annual General Meeting and submit it to Ministry of Health, Commissioner of Charities, Registry of Societies and National Council of Social Services for filing.
We received a list of awards from the Charity Council in recognition of our good governance.
Would I be issued with Tax Deductible Receipt and eligible for Tax Deduction this year?
According to an email from Ministry of Health on 1 May 2021, our application of renewal as an Institution of a Public Character ("IPC") under the Charities Act (Chapter 37) has been approved for three years from 12 May 2021 to 11 May 2024. Therefore, we will be able to issue tax deductible receipt and as announced in Budget 2021, 250% tax deduction for qualifying donations will be extended for another two years till 31 December 2023.
Donors have to provide us with the following details to be updated in the IPC portal:
Name of Donor/Company
Reference No (NRIC No/UEN No/FIN No)
Contact Number
Email address
Donors who do not provide the necessary details even after attempts for clarification will be treated as anonymous.
To be eligible for tax deduction this year, donors have to
be mindful that their selected donation platform and bank will require some time to process their request and transfer to our bank account
ensure that their donation is being deposited into our bank account by 31 Dec of this year
How do I make my contribution? 
To make your contribution to Silver Ribbon (Singapore), here are the following methods:
PayNow, QR Code, Cash, Cheque, Giving.sg, Local Bank Transfer, Overseas Bank Transfer.
Do take note of amount of donation and date & time. Upon completion of transaction, please click
here
to submit your details for your tax-deductible receipt to be issued and mailed to the given address upon receipt of the bank statement.
By PayNow

To make a donation by PayNow, you may refer to the following steps:
Select PayNow on your banking app.
Click on "PayNow to UEN".
Enter UEN no.: T05SS0315B, and click Next.
Ensure that Entity Name is correct: Silver Ribbon (Singapore), and click Next to make donation.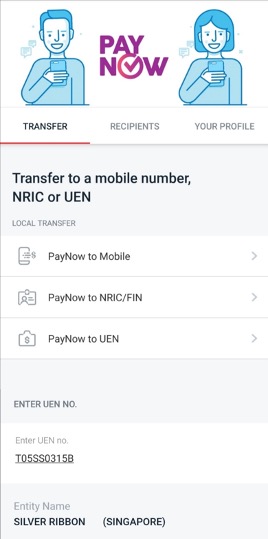 By QR Code

To make a donation by QR code, you may refer to the following steps: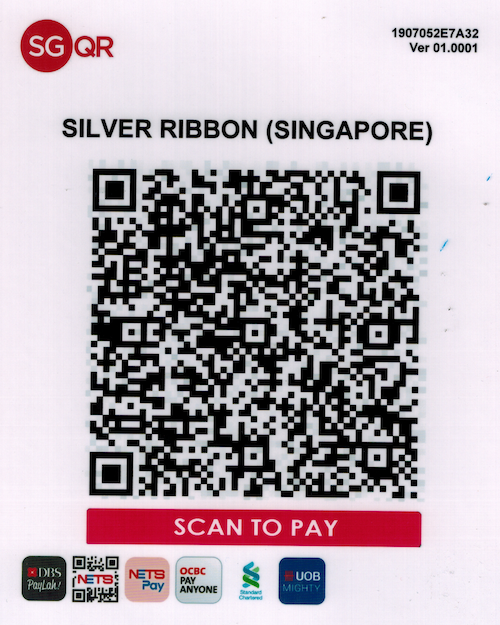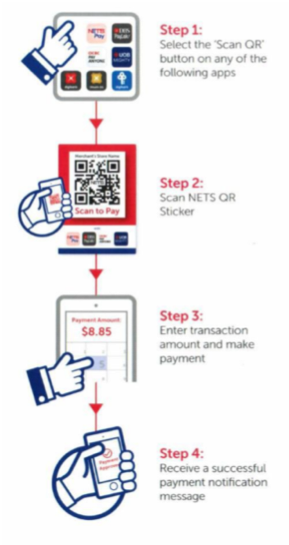 To make a cash donation, you may wish to visit our office at Silver Ribbon (Singapore), C/O H.O.L.A., Blk 208 Serangoon Central, #01-238, Singapore 550208 during office hours (9am to 5pm) on weekdays. Do ensure that you receive a serialised receipt after making the donation.
To make a cheque donation, please cross your cheque to Silver Ribbon (Singapore) and mail it to: 
Silver Ribbon (Singapore)
Blk 208 Serangoon Central #01-238
Singapore 550208
To make a donation online, you may click on the link below:
https://www.giving.sg/silver-ribbon-singapore-
To make a bank transfer, you may do so through internet banking or at any ATMs. Here are the details:
| | | |
| --- | --- | --- |
| Account Name |       | Silver Ribbon (Singapore) |
| Bank | | DBS Bank Ltd |
| Account Number | | 047-900858-6 |
By Overseas Bank Transfer
Bank Code
     
7171
Branch Code
047
Swift Code
DBSSSGSG
Bank Address
12 Marina Boulevard
DBS Asia Central
Marina Bay Financial Tower 3
Singapore 018982
Data Protection Notice
We are committed to the protection of your personal data and this data protection policy will enable you to know how your personal data is protected in accordance to the Personal Data Protection Act 2012 (PDPA). This policy may be updated when required and published on this website with the effective date.
1. Collection and Usage of Personal Data
For application, participation and engagement in our services or programs.
For communication within the organisation and our partners (when required for legitimate purposes, eg, physical security clearance)
To comply with our internal policies, procedures and guidelines.
For record keeping and attendance tracking, or related administrative work within the organisation.
For generation of regulatory, management or other related reports for the purpose of assessment, research and submission to our Board, funding bodies or partners. For internal and external audit purposes to meet regulatory requirements.
2. Collection and Usage of Photos
For publicity and creating awareness, photos may be posted on our collaterals, websites, social media platforms, or for volunteer recruitment advertisements.
3. Disclosure of Personal Data without Consent
Your personal data may be disclosed without consent to relevant authorities or agencies in event of an emergency or when required by government authorities.
4. Modification or Withdrawal of Personal Data
In event that you need to update us on the changes to your personal data, you may inform our staff in any of our branches or write in to our Data Protection Officer.
If you would like to withdraw your consent, please be informed that we may not be able to continue providing our services to you. You may write in to our Data Protection Officer and allow 14 working days for us to process your request.
Protection of Personal Data
We will take all necessary steps to protect your personal data and constantly improve our information security to ensure the security of your personal data.
Data Protection Officer
If you have any questions or feedback on our Data Protection Policy, you may contact our Data Protection Officer via: