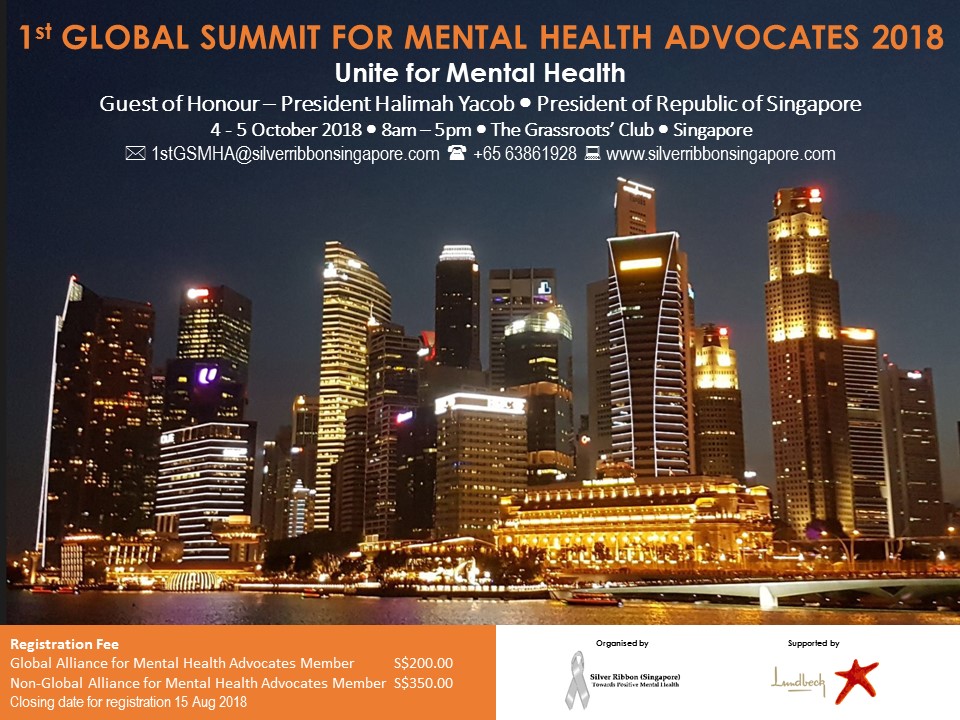 Introduction
Since launched by Former President of Singapore Mr S R Nathan on 4th February 2006, Silver Ribbon (Singapore), a non-profit organisation, has been working closely with its policymakers, government agencies, grassroots organisations, school institutions, religious groups, media, local & overseas mental health organisations, consumers and caregivers, etc, to combat mental health stigma and encourage early help through innovative means.
This year, with the support of Lundbeck, Silver Ribbon (Singapore) is pleased to host the 1st Global Summit for Mental Health Advocates to:
Commemorate World Mental Health Day 2018
Launch The Global Alliance for Mental Health Advocates
It is a global mental health project which serves as a platform to connect all stakeholders - organisations and individuals such as policymakers, grassroots leaders, representatives of government agencies, mental health professionals, mental health practitioners, treatment providers, teachers, students, journalists, consumers, caregivers, etc, across the world to discuss, learn, network, share best practices, ideas, knowledge & resources on mental health promotion and advocacy, and stay connected in improving the quality of life of people living with mental health issues & their caregivers and promoting an inclusive and gracious society.
Summit Sessions
We are pleased to share that 23 local and 18 overseas speakers from 14 countries such as Argentina, Australia, Canada, Denmark, Hong Kong, Indonesia, Japan, Malaysia, New Zealand, Philippines, Portugal, Taiwan, Thailand and United States have accepted our invitation to impart their knowledge and skills at this summit.
Keynote Address
1
To be confirmed
2
Learn, Unlearn, Relearn: United We Stand
Plenary
1
Progress in Mind - Together We Can Make A Difference
2
Must Do Better: An Appeal for Greater Care and Compassion in Police Intervention and Education
3
Let Us Advocate and Promote Mental Health
4
Stronger Together – The Power of Advocacy
5
Media for Advocacy
6
The United to Help Movement. - 10 Years Combating Mental Health Stigma and Discrimination in Portugal
7
Bridging the Divide – The Story of An Unlikely Practice
8
We Need A "Public Mental Health Promotion Act" As Strategies to Advocate Mental Health: Taiwan Experience
9
International Community Mental Health Training for Neighbourhood Countries
10
Mental Health Promotion in Hong Kong: Its Past Experience and Its Future Hope
11
Neuropsychology and Mental Health in Diverse Settings: Environment to Individual, Community to Country
12
Take A Life Education Path – Foresight Better Self in Psychology
13
Multifamily Therapy in the Treatment of Addictions
14
My Recovery Journey
15
Recovery and Relapse Prevention of Working Persons
16
The Effectiveness of Caregivers' Role for Adherence to Treatment in Schizophrenic Patients (Evidence-Based Case Report)
17
Making a Difference in Philippines – Promoting Psychosocial Rehabilitation in the Community
Breakout Session
1
Mental Health Advocacy & Research
2
Mental Health Policies, Promotion & Strategies
3
Mental Health Assessment, Treatment & Other Interventions
4
Mental Health, Employment & Social Enterprise
5
Mental Health & Community Support
6
Mental Health, Youths & Students' Mental Health Initiatives Within/Beyond Campus
7
Mental Health, Rehabilitation & Reintegration
Summit Programme
Please click
here
for details of 1st Global Summit for Mental Health Advocates
Registration
To register, please click
here
for the Delegates Registration Form and email the completed form to
1stGSMHA@silverribbonsingapore.com
Recommended Hotels For Overseas Delegates
Concorde Hotel Singapore
Concorde Hotel Singapore is located along Orchard Road, within shopping and commercial district. The hotel is set between two Mass Rapid train stations, Somerset and Dhoby Ghaut MRT stations, both just a brisk five-minute walk away; and Suntec City, The Esplanade, Clarke Quay and Chinatown are just minutes away. All rooms are newly refurbished. Free Wi-Fi for multiple devices is also available to hotel guests in their rooms, lobby, by the pool, and hotel's public areas. Guests can enjoy a wide selection of cable channels, coffee/tea making facilities, electronic safe, mini-fridge, iron and ironing board. Facilities include an outdoor swimming pool, fitness club and business centre, and a free Internet Station at the Welcome Lounge. All guestrooms are equipped with a new smartphone 'Handy' to enhance our guests' stay experience. Handy allows guests to stay connected 24/7 even if they are out of the Hotel. Benefits of Handy include free unlimited local and international calls to selected countries such as USA, Australia, Indonesia, China, USA, Japan and more; access to interactive maps; GPS and unlimited 4G access. A ride to Changi Airport by car or taxi will take approximately 25 minutes.
Room Rate
Single room: S$210.00++ per room per night (daily breakfast for 1 person)
Double room: S$225.00++ per room per night (daily breakfast for 2 person)
Please visit
http://singapore.concordehotelsresorts.com/
to find out more and you may contact Mr Sulianto Tee directly at sulianto.tee@concorde.net / +65 6739 8320, quoting "1st Global Summit for Mental Health Advocates" to enjoy this special rate.
Hotel Chancellor @ Orchard
Hotel Chancellor @ Orchard is located on the Orchard Road shopping belt. It is nestled between two major Mass Rapid Train Stations, the Dhoby Ghuat Station, a major inter-change station and the Somerset Station. All areas of Singapore are therefore, easily accessible from the hotel. Aside from major shopping centres such as Orchard Central, Centrepoint, 313@Somerset, Orchard Gateway and Plaza Singapura, the hotel is a short 5 minutes' walk from the Istana, the Singapore President's Official residence. In fact, more than half of its rooms face the lush greenery that is part of the Istana ground. The Emerald Hill Conservation enclave is another place of interest that is within 5 minutes' walk. The hotel has a total of 488 rooms that are mostly double or twin configuration. However, there are some rooms that are triple bed and double keys to accommodate family travelling together. Each room has large tinted double glaze windows that allow generous amount of natural light in but yet keep out heat. All bathrooms offer rain shower or shower over bathtub.
Room Rate
Single room: S$148.00++ per room per night (daily breakfast for 1 person)
Double room: S$158.00++ per room per night (daily breakfast for 2 person)
Please visit
http://www.chancellororchard.com.sg/
to find out more and you may contact Mr Cosmo Lim directly at cosmo.lim@ghihotels.com.sg / +65 6708 8779, quoting "1st Global Summit for Mental Health Advocates" to enjoy this special rate.
See you at the Summit!